"To speak a language is to take on a world, a culture."  (Frantz Fanon)
Wer möchte nicht die allerneueste Comedy-Serie aus den USA auf Netflix oder Amazon Prime im Original sehen, weil Humor und Wortwitz sich nun einmal einfach nicht übersetzen lassen, die englischen Texte seiner Lieblingssängerin oder seiner Lieblingsband verstehen oder eine Unterhaltung im Urlaub – ganz gleich in welchem Land – mit Einheimischen oder Urlaubsbekanntschaften aus anderen Ländern führen?
Unsere Schüler*innen wachsen in einer von Mehrsprachigkeit geprägten Welt auf, und ohne Englisch geht in unserer technisierten Welt und im Zeitalter von Globalisierung nichts mehr. Die englische Sprache ist omnipräsent in unserem privaten und beruflichen Alltag. Gute bis sehr gute Englischkenntnisse in Wort und Schrift sind auch für ein Studium und für das spätere Berufsleben unerlässlich.
Englischunterricht am Städt. Willi-Graf-Gymnasium möchte diesen Gegebenheiten Rechnung tragen und ist mehr als nur Grammatik und Vokabeln pauken. Die Schüler*innen sollen mit einem Repertoire an Kompetenzen und Strategien ausgestattet werden, die sie befähigen, aktuellen englischen Texten, Filmen und Hörsequenzen Informationen zu entnehmen und sich mündlich und schriftlich mitzuteilen. Interkulturelle Kompetenzen, d.h. wie man sich in einem englischsprachigen Land angemessen verhält, und die Beschäftigung mit Literatur kommen im Englischunterricht ebenfalls nicht zu kurz.
Da die Schüler*innen nicht nur im Unterricht mit der englischen Sprache in Berührung kommen sollen, bietet das Städt. Willi-Graf-Gymnasium in der Unterstufe eine "spelling bee" an. "Spelling bees" sind Buchstabierwettbewerbe und haben eine lange Tradition in englischsprachigen Ländern. Der beste Buchstabierer oder die beste Buchstabiererin eines Jahrgangs wird in einem Wettbewerb ermittelt.
Außerdem haben die Schüler*innen der 6. Klassen die Möglichkeit, an einen englischen Vorlesewettbewerb teilzunehmen.
In der Mittelstufe findet in einer hoffentlich coronafreien Zukunft zum ersten Mal ein Englischaustausch mit einer Schule in Helsinki statt und in der Oberstufe können die Schüler*innen einen englischen Konversationskurs belegen.
Das Buchen einer englischen Theatergruppe für eine Aufführung mit verschiedenen Theaterstücken für Unter-, Mittel- und Oberstufe soll ebenfalls als Tradition fortgeführt werden.
Let's make learning English fun!
 Teresa Marques Montanhas
Demon Dentist by David Walliams (Students 11-14 years old)
This is a classic horror story. It's about a boy with really bad teeth named Alfie, who lives with his dad in a rotten bungalow. They are very poor and Alfie's dad sits in a wheelchair and is getting older and older, so he decides to hire a social worker, Winnie. Winnie is loud, intrusive and annoying, everything Alfie hates. As if that wasn't bad enough, a really spooky dentist, Miss Root, visits his school and at the same time strange things start happening in the dead of night. Children who put a tooth under their pillow for the tooth fairy wake up in the morning to find disgusting things like dead slugs or an eyeball wriggling under their pillow.
Alfie and his friend Gabz decide to catch the thief, who is terrorising the children of town with evil surprises, and as they get closer and closer, they get caught up in a scary drama with lots of teeth, blood and skeletons involved. Get ready for the spookiest and most terrifying book you've ever read! 
Greta O'Donovan, 6h
Here are some more recommendations for books:
Derry Girls (Netflix)
(Students 14-18 years old)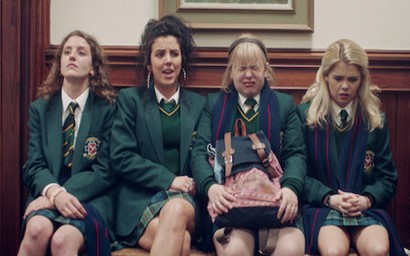 The comedy "Derry Girls" is set in Derry in Northern Ireland during the Troubles, a period of conflict in Northern Ireland that cost more than 3,500 lives and lasted from the 1960s to 1998, when the Good Friday Agreement was signed.
"Derry Girls" follows a group of students at the Catholic Our Lady Immaculate College through the problems of adolescence. The characters are bonkers but you will find yourself falling in love with Erin, Orla, Clare, Michelle and James. "Derry Girls" focuses on typical teen problems like crushes, gossip, problems with the parents, but is set during a difficult time for Northern Ireland.
You might need to switch on the subtitles as everyone apart from the English cousin James speaks with an Irish accent. But I am sure you'll love it!
Check out the trailer on YouTube.
Teresa Marques Montanhas
Here are some more recommendations for series:
The Good Doctor (Amazon Prime)
(Students 14-18 years old)

The series follows Shaun Murphy, a young autistic surgeon from Wyoming with a troubled past. He moves to San Jose, California, to work at the prestigious San Jose St. Bonaventure Hospital.
Shaun is alone and has difficulties connecting with those around him, but is an incredibly talented surgeon, who uses his medical gifts to save lives and challenge the skepticism of his colleagues at the hospital.
Check out the trailer for Season One on YouTube.
Teresa Marques Montanhas
Anne with an E (Netflix)
(Students 14-18 years old)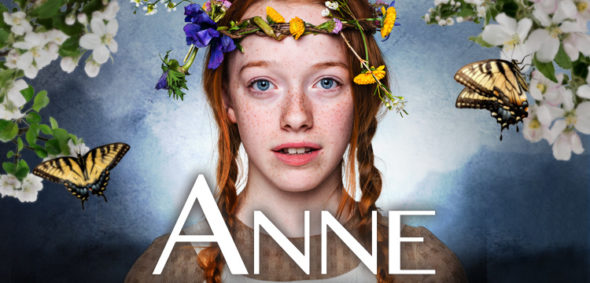 Anne with an E is based on Lucy Maud Montgomery's classic Anne of Green Gables.
It is a coming-of-age story about Anne, an orphan and outsider who after an abusive childhood spent in the homes of strangers and in orphanages ends up with the elderly siblings Marilla and Matthew Cuthbert. They want to adopt a boy to help Matthew around the farm but end up with Anne. Over time, 13-year-old Anne, who has a fierce intellect and brilliant imagination, transforms not only their lives but also the lives of the rest of the community.
Check out the trailer for Season One on YouTube.
Moxie (Netflix)
(Students 14-18 years old)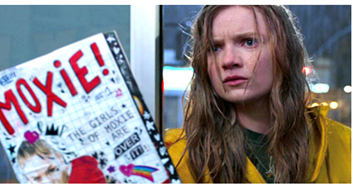 Moxie tells the story of Vivian, a shy 16-year-old girl that finds inspiration in her mother's girl power memorabilia. She decides to anonymously publish a pamphlet at her high school to fight against the sexist and toxic environment there. This pamphlet ignites a feminist movement at her school as the girls are just fed up with being treated as sex objects and with not being heard. Very enjoyable and a talented cast of young actors!
Check out the trailer on YouTube.
Teresa Marques Montanhas